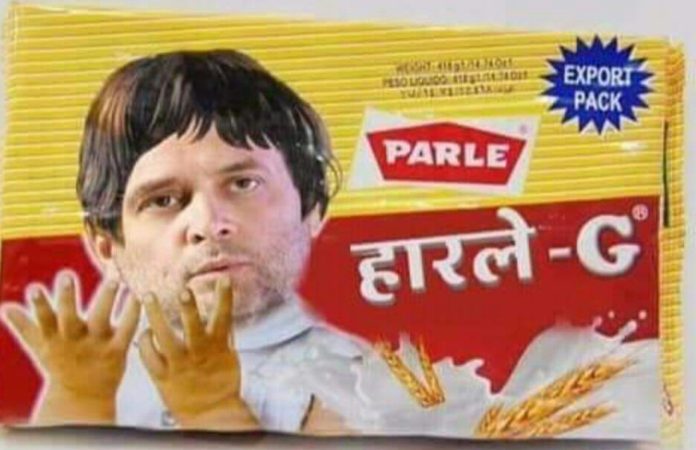 Mumbai: In another major setback to the already demotivated Congress party under the leadership of the dumb Rahul Gandhi after the poll results today, an alumni of doctors from Mumbai's Lokmanya Tilak Municipal Medical College have now filed a copyright infringement case with the Election Commission against the party's poll campaign tagline "Har hath shakti, har hath tarakki" and "Ab hoga Nyay".
The doctors claimed that they had coined the saying "Apna hath Jagannath" one night in their hostel room 2 years back due to the frustration of having to study 24 X 7, not getting girlfriends in medical college during this conservative era, and that the Congress party has stolen it from there.
The QuackDoses got in touch with Dr. Deepak Kumar Singh, a famous city based surgeon who filed the case. "I personally remember writing "Apna hath Jagannath" above the 1st urinal in the college library during my final year of MBBS 3 years back…The Congress has simply lifted my 'eye opening, inspiring' words from there, similar to how Anu Malik lifts tunes from other musicians, and made subtle modifications to it. Jagannath and Shakti, both symbolize power – of the hand here. When will male medical students get nyay?" he asked.
"However, we had no issues with the 2nd part of their tagline 'Har hath tarakki' as it doesn't even rhyme well or make sense. I'm sure that it really was Rahul Baba's original idea", Dr.Singh added further.
In a hurriedly called press conference today to rebut the claim, Rahul Gandhi said, "I'm a 48 year old unmarried youth icon. My mummy is not at all worried about my marriage. I have always believed and propagated the power of the hand- 'Har hath shakti' since last 35 years. How can these doctors claim copyright on it?" The statement was immediately applauded by Digvijay Singh and Kapil Sibbal.
Whether or not the Congress Party changes their punch line for future election campaigns, only time will tell. But a section of party workers seen shouting "Agli baar Pappu Sarkar" on the streets of Mumbai today evening surely reflected lack of insightful ideas and tough days ahead for the Congress party.
Comments
comments