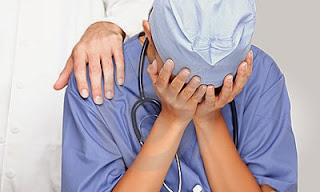 In a Doctor's life, there are many situations, events and patient interactions which touch us, make us reassess our decisions, at times rock us to our core and often go deep beyond human understanding. The following incident is something I often think about, but can do nothing to erase it from my memory…. Life can be hard.
It was the time I was working in the ICU as part of my allied posting during residency.
A 32 year old male patient, known case of advanced squamous cell carcinoma of the buccal musoca with extensive metastasis to multiple organs was brought to the Emergency Department with complaints of hemetemesis (vomiting blood) at home.
In the last 3 years since it was 1st diagnosed, the family had left no stone unturned to find its cure. Having already spent a fortune on past surgeries, chemotherapy medications, radiotherapy, recurrent hospital admissions, etc they were by now financially, physically and emotionally drained out. Finally they had to accept the bitter truth- there was no coming back for him now. The parents had already seen him suffer enough and could not see their only son, a husband to a young woman, a father to a 3 year old bleed to death at home.
"We do not want any aggressive treatment. Please don't put him on a ventilator, do not give any blood and do not try to pump the heart if something happens. We only got him here as we could not see him die in front of our eyes", were the clear instructions from his father.
It was late in the night and I had already finished my rounds for all the other patients. After the family had signed the DNI and DNR (Do not Intubate and Do not Resuscitate) consent, the patient was shifted to the ICU with strict instructions of palliative care alone.
As I went through the patient's files, I stumbled upon his last PET CT report which showed that the tumor had spread close to a major blood vessel in the neck (and hence the possibility of hemetemesis once the vessel wall is breached was already explained to the family).
We doctors can be such big liars at times…I spoke to the patient for 2-3 minutes…told him that things will soon be fine and we will do our best. He nodded in acceptance, but the look in his eyes said it all…he knew death was coming.
After starting him on some intravenous fluids and an analgesic, I went to my doctor's room to relax. At the back of my mind, I knew that one episode of massive hemetemesis for him and I could soon find myself issuing a Death Certificate (DC)…. something I always hate to fill.
20 minutes later, I got a call from the nurse station. "Dr.Mohit, the patient is vomiting blood again. What do we do?" asked the panic stricken nurse.
"JUST DRAW THE CURTAIN AND WAIT", I replied……………. CALL ENDED.
5 minutes later, I got a call again. "Dr. Mohit.…woh patient ka asystole ho gaya (flat line on the cardiac monitor. In simple terms, he was gone)." …. and I reluctantly walked to the patient cubicle to clinically confirm and pronounce him dead.
It was the bloodiest site I had seen in my life till now, the thought of which sends chills down my spine even to this day and as I write this. It seemed as if someone had taken out the entire 5 liters of blood from his body and spilled it on the clothes, the bed, the walls and the floor.
I called for his family to deliver the news. As per hospital policy, only 1 relative per patient is allowed to stay and I had no option but to break the news to his wife who immediately broke down.
"Sab clean karwao, body pack karwao aur niche Emergency se DC book mangwao" were my last order to the nurse as I walked out.
Comments
comments