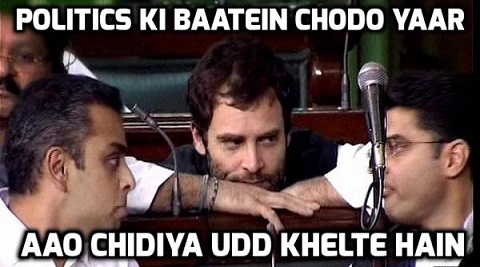 New Delhi: Hours after Rahul Gandhi officially took charge as Congress President today, Sonia Gandhi has now announced an award of Rs. 5 crores to any doctor who can treat her son Rahul Gandhi and make him look less idiotic than Pakistani cricket players in post match conferences.
In his first confusing speech as party President today, Rahul Gandhi had earlier stated that 'The Congress was known as the 'grand old party' but he will now make it the 'grand old new party' which left the media persons and party workers in splits and thinking of what he really meant , apart from causing embarrassment to senior party leaders sharing the dais.
In an emotional speech which lasted over 30 minutes, Sonia looked disappointed and broken while narrating her experience as a mother dealing with a son like Rahul.
The Gandhi scion who is now at the peak of his stand up comedy career has become so much of an embarrassment for the Congress that even ministers from within the party are poking fun at him and were seen laughing during Prime Minister Narendra Modi's vicious attack on the comedian in the parliament recently.
In an exclusive interview with The Quackdoc, Sonia Gandhi said, "I've now tried everything, from Cerelac to Dabur Janma Ghutti, from almonds to chavanprash but nothing seems to be working on him. Rahul ne toh congress ki 'Gandhi' maar di. Politics is meant for corruption and he must learn to do what congress has done for the last 60 years. I really hope medical science finds a miracle cure for my son with stem cells or brain transplants technology."
While many doctors have taken the offer seriously and are flocking to New Delhi to conduct medical tests on their new high profile client, experts are skeptical of such a cure stating that Rahul is like old wine that will only get better with age, in idiocy and his ability to make people laugh though.
Comments
comments