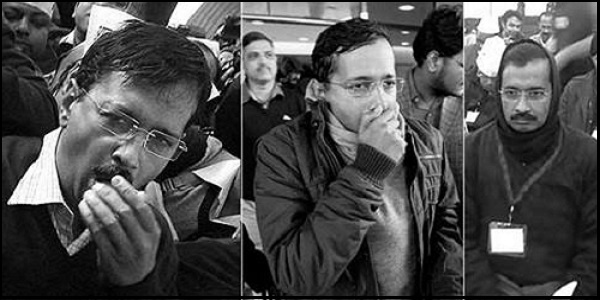 New Delhi: In another major setback for the Delhi chief minister Arvind Kejriwal, the Supreme Court today upheld the rejection of mediclaim by an insurance company for treatment of his chronic cough. He is already facing the heat as a RTI filed by the BJP has revealed that Kejriwal and his ministers spent more than Rs. 50 lakhs on medical treatment in the last 4 years at top private hospitals, while cheating common man to seek treatment in 'Mohalla clinics'.
As per the insurance policy documents, a copy of which is available with QuackDoses, Kejriwal had claimed Rs. 10 Lakh cash back for the treatment of his 'trademark' chronic cough which exacerbated during press conferences and dharnas, before he used Anna Hazare's movement for his own political gains.
The insurance company had refuted the claim on grounds that a muffler and sweater were not a recommended medical treatment modality and that Dr. Kumar Vishwas was not a real doctor. Kejriwal challenged the insurance company's decision before the National Consumer Disputes Redressal Forum which passed an order against him, and he subsequently moved the apex court.
"The documentary material indicates that there was a clear failure on the part of the Kejriwal to disclose that he suffered from Munchausen syndrome, a factitious mental disorder in which a person repeatedly and deliberately acts as if he or she has a physical illness when he or she is not really sick. The ground for rejection was in terms of the exclusions contained in the policy," the top court said.
In a press conference to media persons after the verdict, Kejriwal said, "Main bahut chota admi hun, meri koi aukat nai hai. Inn insaurance company walon k piche Congress-BJP netaon ki milibhagat hai. Yeh log chahte hain ki mera allergic bronchitis pneumonia mein badal jaye aur main khatiya pakad lun. Ek baar agle saal Dilli mein phir hamari sarkar aane do, inn insurance company walon ko hum expose karke jail bhijwa denge."
Unconfirmed reports also claimed that a pharmaceutical company who had signed Kejriwal as brand ambassador for their cough syrup might sue him for breach of contract, for not publicly coughing enough in the last 4 years as promised in the deal.
Comments
comments