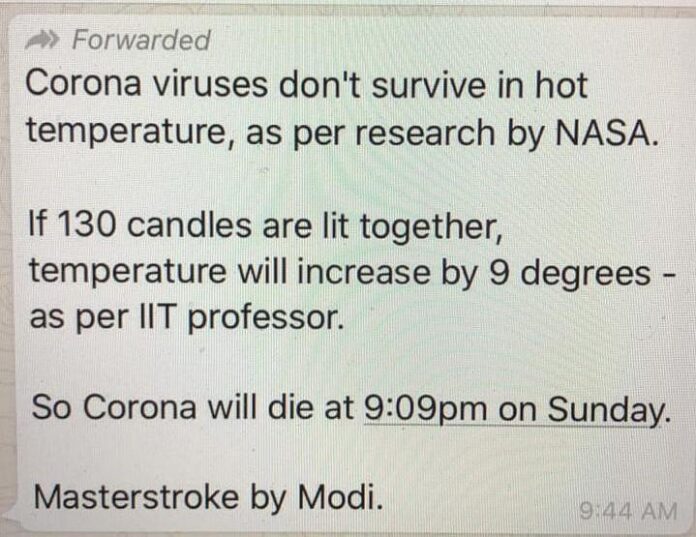 Mumbai: In a survey which has sent shock waves among the global medical fraternity, doctors in India rated Whatsapp as the most influential online medical journal, since the COVID Pandemic began. In surprising results of the controversial survey, Whatsapp beat the top medical journals like the New England Journal of Medicine (NEJM), The Lancet, The Journal of the American Medical Association (JAMA), Annals of Internal Medicine, and others, to emerge as the clear winner.
It is a well-known fact that Whatsapp in India over the last 2 years evolved as a multilingual encyclopedia, slowly becoming the nation's largest and most visited online reference platform, giving opportunities to compounders, politicians, housewives, actors, You tubers and every one to project themselves as a COVID expert amid the lockdown, and share their unscientific remedies.
In an exclusive interview with the Quackdoses, Dr. Clueless, who emerged as the leading COVID expert in the country said, "When WHO and ICMR were as clueless as I was, Whatsapp & the useless webinars were the only source of mis-information. Whatsapp is arguably, the largest collaborative project of humankind in its fight against COVID. Even traditional journals increasingly cited Whatsapp formally, with decreasing general distrust of Whastsapp in academic circles. It not only reflected the state of (un)scientific knowledge about COVID in India, but also shaped science and accelerated research, including the use of Gharelu Nuskhe, Coronil, Thali Beating, lighting firecrackers to scare the virus, drinking alcohol based sanitiser & chanting of the famous GO-CORONA-GO."
Doctors in the West have rubbished the survey on grounds that the quality of medical information on Whatsapp is low, culturally influenced, partly dependent on the writer's experience and only as true as the news articles of the Quackdoses.
Comments
comments