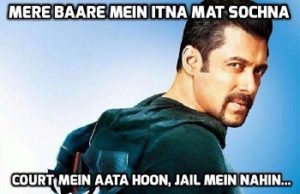 Jodhpur: A day after Salman Khan walked out of the Jodhpur Central Jail, a local veterinary doctor has claimed that the 2 black bucks in question had committed suicide and he had himself certified 'cardio-respiratory arrest' as their cause of death.
The sessions court in its decision yesterday had given Khan 'benefit of doubt' with the observation that 'Bhai is always innocent'. He has to be pardoned for his 'good conduct' and 'charity' to the judges, which successfully kept him out of jail for 20 years with generous 'tarik pe tarik' by them.
"Salman was framed by fabricating evidence for actually saving a dear fawn stuck in the bush!! The veterinary doctor's claim proves what we had been saying all along. There is no doubt that the police and the forest department fudged the case and manipulated unreliable witnesses," said the controversial actor's counsel Feku Vakil in a statement to the Quackdoses.
The Bishnoi community, predictably angry at the decision of the sessions court, has rubbished the doctor's claim and has approached Delhi Chief Minister Arvind Kejriwal to verify if the B.M.V.Sc degree (Bachelor in Masters of Veterinary Science) was fake, and that it will file a petition in the Rajasthan high court challenging the grant of bail to the actor.
Comments
comments