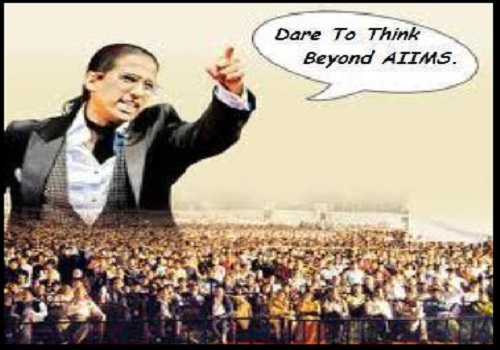 Mumbai : With the fall in revenue after the Delhi High court restrained IIPM from pretending to be a real university and offering MBA / BBA degrees last month, India's biggest fraudster and self proclaimed management guru Prof.Arindham Chaudhari announced the opening of IIPM Medical School today.
"We at IIPM Medical School offer M.M.B.B.S to medical students, a dual course called Masters in Bachelor of Medicine & Bachelor of Surgery. Our on panel professors team include eminent medicos like Dr.Amitabh Bacchan, Dr.Vijay Mallaya, Dr. Rahul Dravid, Munnabhai and others. In line with our tradition at IIPM to give free laptop and a foreign trip to students, we will gift a Doctor's set comprising of 2 aprons, 1 hammer and 3 pens to every student along with a trip to a real hospital before the completion of the 3 year course", said Chaudhari.
When asked about the career prospects and relevance of such Doctors in today's fierce competition, our The QuackDoc samwadata Arun Swaminathan was legally warned of asking defamatory and disturbing personal questions.
Inspired by the IIMs to grant extra marks to females and non engineers to maintain diversity in the batch, IIPM medical School has decided to give 33 % Quota for women candidates with 5 marks extra to good looking ones. Medical students will also be provided fake campus placements as consultants into 7 star corporate hospitals. With IITs similar plan to provide medical education whitewashed after no clearance by the HRD ministry, trade analysts claim IIPM Medical School might actually be the "Game Changer" for the deficit of doctors in the country.
IIPM spoke person Shah Rukh Khan added, "IIPM is a non profit organization and we believe in providing quality education at cheap prices. Our M.M.B.B.S course is likely to cost a paltry Rs.25 Lakhs which is peanuts compared to what other private institutions currently charge. We plan to tie up in future with Harward School of Medicine and other such non existing fake Universities too."
Although Mr.Chaudhuri neither confirmed nor denied the possibilities, it is being rumored that he has already planned to buy out Hospitals like AIIMS, KEM, LTMGH, PGI and others in the near future.
Comments
comments