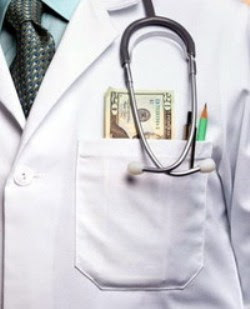 Mumbai: A doctor (name withheld) from a leading 7 star hospital LTMGH was caught red handed by IT officials while accepting a pen as bribe from a Medical Representative (MR). Many MRs had made repeated complaints how many doctor from this hospital begged for gifts during New year and Diwali week. With no evidence to support their claim, IT officials decided to visit OPD disguised as Mamas and see for themselves.
"Although doctors are allowed to accept gifts costing up to Rs.999, this particular pen was packed in a cardboard box with 'Made in Dharavi' written over it, we are trying to ascertain its cost", said IT official Isrutnissa. Smoke billowed from the ears of the doctor while he as being taken away."I am innocent, even the HOD ( Head of the department) was given this pen", he shouted across the OPD. The Dean of LTMMC & LTMGH Sangam refused to comment on this issue.
"We suspect the doctor had links to Pappu Injection", said another IT official. It is now very clear that the gift giving racket runs into Crores as The QuackDoc has claimed for years. Whether or not the doctor will come out clean remains to be seen but the hospital authorities and other doctors being tight lipped about the issue points in a different direction altogether.
The many CCTV cameras which were put for decoration in LTMGH have now been repaired and switched on (Another issue going on as to who will bear the cost of the electricity bill, the patients or BMC). Medical Representative have now been banned from the hospital premises and a board has been put up at the entrance which reads, " Patients and MRs not allowed, trespassers will be prosecuted".
Comments
comments