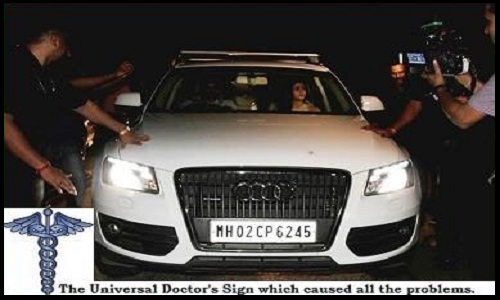 Mumbai: In a major embarrassment for Alia Bhatt, the 2nd in command to Rahul Gandhi for being 'The Dumbest Indian Internet Sensation', doctors across the country went on a flash strike today after she force stopped a doctor's car mistaking him for a snake charmer.
The incident happened in the wee hours of the morning when Alia who was returning from an IQ improvement class saw a car whiz past which had a sticker of 2 snakes on the wind shied and a black snake like object on the dashboard. She immediately called up the 'velle' media persons and animal right activists who were quick to reach the scene as she successfully chased down and force stopped the car. The driver (identity withheld) was later found to be a medical intern who was getting tea-biscuits for his Registrar and Houseman, and the snake like object was only a stethoscope.
In an exclusive interview with The QuackDoc, the meaning of which we are still trying to decipher, Alia said, "When Doctor Fix-It can be a wall putty, Teachers can be a whiskey brand, why can't a car with a sticker of 2 snakes on it be that of a snake charmer. My intentions were not at all wrong. I respect doctors. Even when I have to go for a blood 'Test', like engineering students, I too start studying 1 day in advance."
Meanwhile, our gupt sutra Sunita Soni has found out that Alia has already filed a petition with the President of India, 'Prithviraj Chavan' to change the current universal doctor's sign to that of Aamir Khan (The 'dood ka dhula hua' Mr. Perfectionist who shot to limelight with his Anti-doctor episodes on Satyamev Jayate) wearing a stethoscope.
Comments
comments