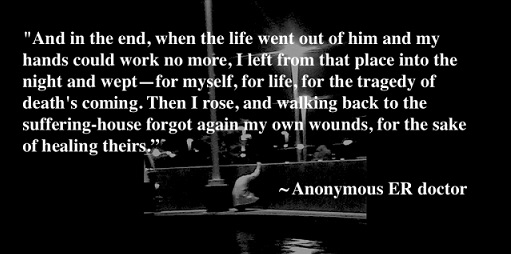 Scenario: A young 27 year old male was brought by an auto driver to the Accident & Emergency Department with a history of road traffic accident. His body was completely mutilated with multiple broken bones, visible deformities, head injury and a 'fountain' of red blood from his right femoral artery due to a puncture wound. Though he was gasping while being shifted from the autorickshaw to the stretcher, his breathing stopped completely by the time he was wheeled in to the resuscitation bed. In spite of an immediate intubation and all our resuscitative efforts, he succumbed to his injuries.
My hands trembled as I looked through the contacts on his phone to search for 'home, ma / mom, papa / dad, bhai, baby / sweetheart / wifey, etc'. I slowly gathered courage to call on 'dada' (which mostly means elder brother) as I did not want to make the 1st call to his mother, father or the wife.
I was at complete loss of words when he picked up the phone…what should I tell him? The images running through my mind was of how my own elder brother would react if he received such a call.
"Main Hospital k Emergency Department se Doctor Mohit bol raha hun, aap please jaldi hospital aa jaiye."
"Doctor kya hua ? Yeh mere bhai ka number hai, usne kyun call nai kiya?", he asked.
"Main jyada kuch nai bata sakta phone pe, aap aa jaiye aur kisi family member ko bhi sath le aiyega", I replied.
"Theek hai, main abhi office mein hun, thodi der mein Papa k sath pahuchta hun."
The scenes which followed cannot be expressed in. The reaction of the brother, the father, all the tears, the disbelief, the trauma, the shock…the mother fainted on arrival and later with tears rolling down her eyes, she asked me was, "Doctor, usne kuch bola kya marne se pehle? Woh kitni der tak zinda tha? Saasein chal rahi thi kya uski?" – probably she wanted to hear if he left any message or final words, and I couldn't answer to her (there are tears in my eyes, as I think of that mayhem again to pen down these words) .
After a month, the father and the brother came to get life insurance forms filled. I found out that he was recently married 3 months back. On the day of his accident, his mother was just discharged after an angiography (with report of few coronary blockages which could be medically treated) and he had just brought her home from the hospital after discharge and left with a friend to buy some sweets in view of the normal reports. The brakes of a dumper had failed on Jogeshwari Vikhroli Link Road (JVLR) and the truck driver rammed into 7 vehicles…and the body of the pillion rider was ripped into pieces on the spot of the accident.
********
The life of a doctor is complicated, and gets even worse when he/she is working in the stressful environment of an Accident & Emergency department (A&E). An emergency physician has to be a JACK OF ALL, AND A MASTER OF ALL as it cannot be predicted what will come in through the entrance door – an accident victim, a patients with a heart attack, a stroke, a seizure, a patient fighting to take a breath, a geriatric, a pediatric, a pregnant patients apart from the regular emergencies across all specializations.
What makes this branch different is the amount of emotions, expectations, always, dealing with blood and death on a routine basis, with no margin for error. Seconds and minutes can make all the difference between life and death.
Doctors working in the A&E and ICUs have to be 2 faced, hide their humane emotional side when dealing with a critical patient and delivering bad news, while simultaneously thinking with a straight head about the best modality of treatment. The worst part of this job across the world would definitely be dealing with young deaths. It will be a lie if I say I have never seen doctors break down and cry after declaring a patient dead.
Like most of the doctors working in the A&E across the world, I too have had the MISFORTUNE of giving bad news to  a father, a mother, a sister, a brother, a wife and friends about the death of their loved one – at young age of 21, 24,27,29, 31, 37,42, etc.
And just while all this is going on, YOUR DOCTOR in the Emergency pulls himself back together and gets ready to tackle another challenge – The Next Patient.
Comments
comments