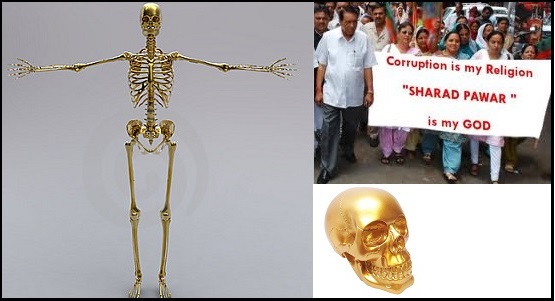 Mumbai: In a shocking revelation that has stirred the political scenario & has left the medical fraternity aghast, doctors who recently operated on Sharad Pawar for a tongue-and-throat surgery revealed that the Nationalist Corrupt Party (NCP) Supremo has a skeleton made of gold. The former Union minister, who people claim is the 2nd richest and the most corrupt person on Earth after Sonia Gandhi, was flown in to Mumbai from Delhi via an air ambulance.
Doctors who conducted a full check-up and had unfortunately ruled out anything serious were curious about the increased bone density on the serial X-Rays and decided to operate as soon as possible. The hospital authorities refused to divulge further details regarding his health condition. There is no clarity on whether the senior leader's hidden gold is 24 carat or less.
"He was brought to Mumbai because he was previously treated here. The mal-practicing hospital in Delhi was forcing him to undergo surgery there and allowed him to leave only after signing the Discharge Against Medical Advice (DAMA) form. He will be medically fit to loot India again in a few weeks' time. If Sheikhs in Dubai can have cars made of gold & platinum, what's wrong in having a custom made skeleton made of the same metal?," said NCP leader Ajit Pawar, who visited the 78-year-old politician at the QuackDoses Multi-specialty Hospital.
Earlier too, Pawar's surgery had made headlines in 2014 when he suffered from a hip fracture after slipping and falling on the pavement outside his house during a routine evening walk. He subsequently accused the BJP workers of peeing outside his home to make the sidewalk slippery, and the harassment still continuing with BJP poaching on senior NCP leaders by misusing government agencies like Income Tax & Enforcement Directorate to make them defect, ahead of the assembly elections due later this year.
This was the fourth surgery of the veteran politician. He has earlier been operated on for his oral cancer, a fractured hip and another being the famous Sardar slap, a quick-minor procedure which made his smile from :-/ to :-l .
Comments
comments