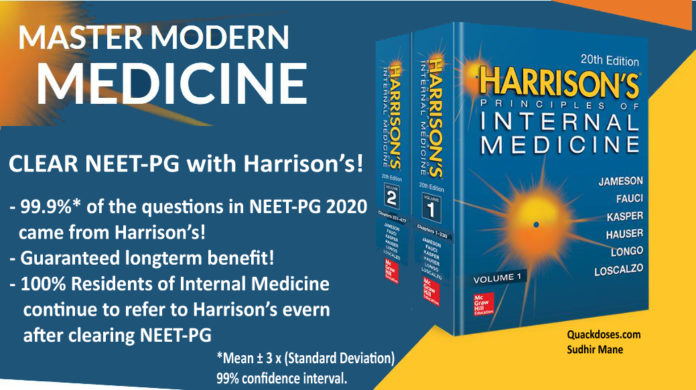 New Delhi: The recently concluded NEET-PG exam has set off a rat race among various medical PG entrance coaching institutes, which every year after the exam, flood the social media with posts confidently claiming that a large number of the exam questions were from their notes. Some institutes have taken it a notch higher by saying they have a high "strike rate", a term that is usually restricted to the cricket pitch!
In a bid to counter these statements, Dr. Neetesh Bajaj, MD of Tata McGraw Hill, has claimed that they have the highest strike rate with 99.9% of the questions appearing in NEET-PG from their bestselling book- Harrison's Principles of Internal Medicine.
In an exclusive interview with the Quackdoses, Dr. Neetesh said, "I was irked by the strike rate posts on social media. We had to assert our dominance and teach our competitors a lesson. The question banks provided by our competitors have more than 26,000 MCQs & the video lectures have about 700 hours of content! It's not a big deal if a handful of questions from such a vast suppository* of information appear in the exam. If they claim to be the "Gold Standard" for NEET-PG, we are the ones who brought these standards into existence! "
These tall claims stand dwarfed because it is a well known fact that most medical students never read Harrison's after buying it. The nerds buy it to impress the professors & the boys buy it to look sapiosexual for impressing their crushes. The hefty 2 volume book has also replaced dumb-bells in most medical college gyms, while some students are known to use them as pillows.
Our gupt sutra spoke to a euphoric Dr. Damsondas Bhatia, who attempted NEET PG for the fourth time this year, "Yeh Stepladder walo ko marrow goli. NEET k liye Harrison sab ka baap hai! They even own the patent to the exam software yaar!!", he said.
After reading Dr. Bhatia's comments, an angry Sanjay Dutt tweeted "neat mein main Harrison ka bhi baap hun", until a medical student informed him that NEET was a medical PG exam and not the choice for alcohol, after which Dutt deleted his tweet.
*suppository: a solid medical preparation in a roughly conical or cylindrical shape, designed to be inserted into the rectum or vagina to dissolve.
Comments
comments